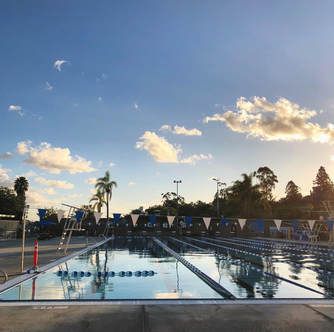 In the middle of the year, we can see who is still training and who isn't. Though far from your New Year's resolution, there is no better time to pursue your goals other than now. With Summer just around the corner, let's use these next couple of months to get to work on your ideal summer body. One sport that is key for everyone to learn and enjoy is swimming. Swimming is most known as the one complete exercise. It is an exercise everyone can do--whether you are a child, teen, young adult, mature adult, senior citizen, the low impact of the water allows this sort of exercise to be accessible to any kind of person. Most people who are starting to swim usually lack knowledge of where to even begin. When it comes to effective training methods, as well as conditioning at a beginner/intermediate level it should be clear to us that we have to start somewhere. This is precisely why we have prepared a six week, 1 hour per day swim program that allows you to get in shape with the least suffering as possible. The best way to become good at something, is to view with technicality--in other words, baby steps. We all know the old folk tale of the turtle and the hare, the best way to win a race, is to finish it. Let's begin this by starting a healthy routine at least 3 times a week.
If you have any questions as far as any terminology listed below, most of these can be found on YouTube. Feel free to search for the drills or strokes for visual support.
Now lets get to training
.
Week 1Workout Goal:
Improve endurance, develop technique for multiple strokes
Total Distance:
1000 yards
100 yards freestyle warmup
(no rest during swim)
4 x 50 alternating lengths of butterfly and freestyle, resting :30 between each 50
(swim the first 25 butterfly and the second 25 freestyle)
4 x 50 alternating lengths of backstroke and

freestyle

, resting :30 between each 50
(swim the first 25 backstroke and the second 25

freestyle

)
4 x 50 alternating lengths of breaststroke and

freestyle

, resting :30 between each 50
(swim the first 25 breaststroke and the second 25

freestyle

)
4 x 50

freestyle

, alternating lengths of sprinting and easy swimming, rest :15 between
(on each 50 sprint the first 25 yards then swimm slowly on the second)
100 freestyle warmdown
(swim slowly and relax)
Week 2Workout Goal:
Improve endurance, breathing rhythm, gain technique on turns
Total Distance:
1200 yards plus flip turn practice
300 yards

freestyle

warmup
(no rest during swim)
4 x 50 yards

freestyle

alternating breathing each length, resting :15 between
(breathe every 4th stroke on the first 25 yards, and breathe every 2nd stroke on the second 25yards)
200 yards

freestyle

no breath approaching wall
(breathe in any pattern during swim but do not breathe within 4 strokes of approaching the wall)
10 x flip turns
(practice taking 2 strokes and doing a flip turn followed by 2 strokes)
4 x 50 yards choice of strokes, resting :15 between
(do any single stroke or mix the strokes)
300

freestyle

warmdown
(swim slowly and relax)
Week 3Workout Goal:
Improve endurance, develop technique for multiple strokes
Total Distance:
1000 yards
200 yards freestyle warmup
(no rest during swim)
4 x 50

freestyle

, alternating lengths of sprinting and easy swimming, rest :15 between
(on each 50 sprint the first 25 yards then swimm slowly on the second)
4 x 100 IM resting :30 between each 100
(each IM is 25 butterfly, 25 backstroke, 25 breaststroke, 25 freestyle)
200

freestyle

warmdown
(swim slowly and relax)
Week 4Workout Goal:
Improve endurance, breathing rhythm, gain technique on turns
Total Distance:
1200 yards plus flip turn practice
200 yards

freestyle

warmup
(continuous swimming)
200 yards

freestyle

no breath approaching wall
(breathe in any pattern during swim but do not breathe within 4 strokes of approaching the wall)
4 x flip turns
(practice taking 4 strokes and doing a flip turn followed by 4 strokes)
4 x 100 yards

freestyle

resting :15 between
(breathe every 4th stroke and do not breathe within 4 strokes of the wall, do flip turns on all turns)
4 x flip turns
(practice taking 4 strokes and doing a flip turn followed by 4 strokes)
4 x 50 yards choice of strokes, resting :15 between
(do any single stroke or mix the strokes)
200

freestyle

warmdown
(swim slowly and relax)
Week 5Workout Goal:
Improve breath control and consistency
Total Distance:
1600 yards
200 yards freestyle warmup
(rest :30 between 100s)
8 x 25 yards windsprints resting :30 between lengths
(swim each length without taking a breathe)
2 x 200 yards

freestyle

counting strokes per length
(try to keep all lengths at the same number of strokes)
8 x 25 yards windsprints resting :30 between lengths
(swim each length without taking a breathe)
2 x 200 yards

freestyle

counting kick timing
(count 3 kicks for each arm stroke)
200 freestyle warmdown
(swim slowly and relax)
Week 6Workout Goal:
Develop all 4 strokes
Total Distance:
1600 yards
200 yards

freestyle

warmup
(rest :30 between 100s)
4 x 100 yards IM in reverse order, resting :30
(swim the IM in reverse order, freestyle, breaststroke, backstroke and butterfly)
4 x 50 butterfly, resting :15
(keep the time consistent on each 50)
4 x 50 backstroke, resting :15
(keep the time consistent on each 50)
4 x 50 breaststroke, resting :15
(keep the time consistent on each 50)
2 x 100 yards IM alternating sprints, rest :30
(on the first IM sprint fly and breaststroke, on the secon IM sprint backstroke and freestyle)
200 yards warmdown use all strokes
(swim slowly and relax)
Post by Alex Lopez
Swimmer